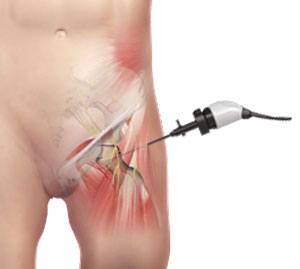 Hip arthroscopy is a specialized technique for the care of cartilage or labral tears in the hip. It is also used to treat deformities related to damages to preserve the hip joint. The procedure requires general anesthesia and takes about 2 hours.
During the procedure, traction is applied to the affected leg, and the arthroscope is inserted. Repair of the labrum is accomplished and then appropriate treatment of the deformities that may have caused the labral injury. The procedure is followed by 2 hours in the recovery room – and then home. I ask for patients to use two crutches for six weeks – and have some very mild limitations of their motion in that time. When comfortable, patients can return to driving, work, and other activities while partial weight-bearing for the six weeks with two crutches.
At two weeks, the patient will return for suture removal with Brian Johnson and therapy is begun. The patient is then seen again at six weeks after the operation for an x-ray and release from the crutches.