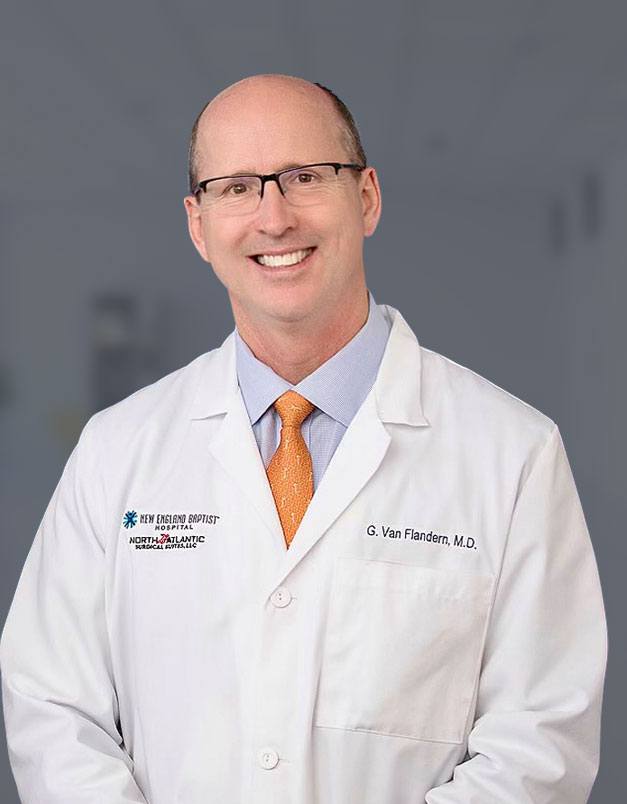 About

Geoffrey Van Flandern, M.D.

Dr. Geoffrey Van Flandern is a Board Certified Orthopedic Surgeon specializing in the care of hip and knee diseases. Born and raised in Cincinnati, Ohio, he attended the University of Notre Dame graduating in 1985. He went on to attend the Northwestern University School of Medicine in Chicago, and his orthopedic residency at the Northwestern/McGaw Medical center also in Chicago.

Dr. Van Flandern completed the Otto E. Aufranc Fellowship in Hip and Knee replacement at New England Baptist Hospital in 1995. He then joined Longwood Orthopedic Associates in Boston, and continued to specialize in the reconstruction and replacement of hips and knees as an attending surgeon at New England Baptist Hospital.

Dr. Van Flandern is past President of the Medical Staff and has been a member of the Arthroplasty, Infection Control and Medical Executive Committees, as well as served as Chairman of the Operating Room Products Committee at NEBH. He is now the Director of the world renowned Aufranc Fellowship and also is an Assistant Clinical Professor at the Tufts University Medical School.

Dr. Van Flandern maintains his place on the cutting edge of techniques in advanced hip and knee replacement and rapid postoperative recovery. His practice also focuses on the younger patient as he also performs hip arthroscopy and hip preservation techniques.

He is extremely well respected by his peers – has been Voted One of Boston's TOP Orthopedic Surgeons for the last 10 years… and has received multiple awards over the past decade for is expertise in teaching.

For the last 15 years, Dr. Van Flandern has been one of the highest volume surgeons at the New England Baptist Hospital. He recently expanded his practice to boutique outpatient joint replacement centers for advanced hip and knee replacement in the younger and more active patients.

Dr. Van Flandern is a lifelong athlete and continues to enjoy a very active outdoor existence with hiking, skiing, and even triathlon competition. He has been married for 26 years to his beautiful wife Linette and has been blessed with four loving children. His emphasis is on his family, and after the loss of his second daughter Erin Marie, has learned to treasure them more than ever.
Education & Experience
Otto E. Aufranc Fellowship in Hip and Knee Replacement


New England Baptist Hosptial

McGaw Medical Center of Northwestern University


Residency, Orthopedic Surgery

Northwestern University Feinberg School of Medicine


Medical School

University of Notre Dame


Undergraduate
Geoffrey Van Flandern, M.D.