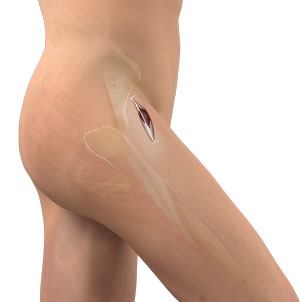 This newer, more advanced technique, is performed on the appropriate patients. This technique is approximately 60% of the hip replacement surgeries in my practice. Anesthesia can be by spinal or general anesthesia. The direct anterior approach is a much less invasive procedure that requires specialized techniques and use of the Hanna table.
The technique finds a true interval between musculature and avoids the injury to the surrounding tissues. The Direct Anterior Hip Replacement Surgery is the same hip replacement procedure is performed through this advanced approach with removal of the femoral head and replacement with ceramics, super plastics, and titanium implants without cement. This approach is most appropriate for those patients who are not obese and have more predictable complexity and limited bone loss.
The procedure takes 2 hours and then the recovery room for 2 hours. The patient remains in the hospital overnight and now even more often moves from the recovery are to home on the same day at the North Atlantic Surgical Suites. The return to the office is at six weeks with the Nurse Practitioner, Brian Johnson.