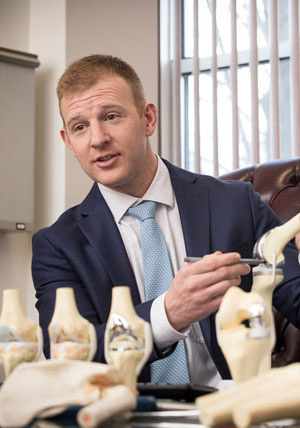 Brian Johnson
Nurse Practitioner
Mr. Johnson is a fantastically, well-trained Nurse Practitioner. He specializes in hip and knee assessment, recommendations for care, and is an expert in the non-operative care of hip and knee diseases.
He attended Northeastern University in Boston MA, where he received both his B.S. - Nursing and M.S.N. - Nurse Practitioner. He then completed additional training to become an RNFA — Surgical First Assistant.
His training includes multiple orthopedic and medicine based clinical rotations at Boston's top hospitals.
Brian is a full member of Longwood Orthopedic Associates, working side by side with Dr. Van Flandern in both surgery and clinic since 2007.
He specializes in Joint Replacement and Sports Medicine, including the most innovative conservative therapies and injections for the management of osteoarthritis. Brian spent many years honing his skills in diagnosis and injection. He trained in the applications of Cortisone, Gels, Plasma Rich Protein (PRP), and Amniotic Fluid.
He sees many new consultations and is actively involved in the post-operative care of all of Dr. Van Flandern's patients.
Brian is accredited by the American Association of Nurse Practitioners (AANP), Massachusetts Coalition of Nurse Practitioners (MCNP), and New Hampshire Nurse Practitioner Association (NHNPA).
He is currently a member of the MCNP legislative team, advocating for Nurse Practitioner advancement in the Commonwealth of Massachusetts.